Bellmont Cabinets
Are you seeking a made-to-order cabinet that's not only high-quality, but adds amazing and enduring value to your property? Look no further: Bellmont Cabinet Co. truly has it all. With its amazing versatility and fantastic style, these cabinets are the perfect solution to all of your most pressing storage challenges.
From the VERO Series, which is inspired by Italian minimalist design, to the 1900 Series, offering the most eclectic array of door styles, finishes, materials, and features, we can assure you that there's a Bellmont cabinet for every taste, budget, and style. At Miller's Carpet One Floor & Home, where we're so much more than just a flooring store, we can help you find your perfect cabinetry, giving your space a brave new look from the bottom up.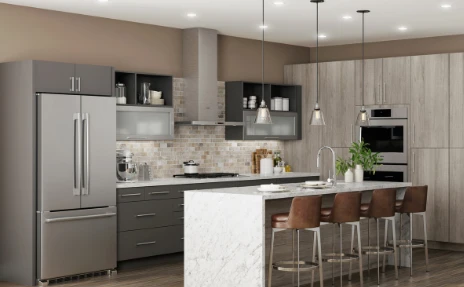 Bellmont Fundamentals
Are you seeking something beyond the ordinary as you tackle your bathroom or kitchen renovations? Bellmont Cabinets offers up a true, frameless advantage over its competitors. With endless options for expressing your style, frameless cabinets also bring about added storage space and additional organizing alternatives.
With its solid construction and rigid box interiors, Bellmont Cabinets are a wonderful addition to all types of interiors. These cabinets boast a full overlay and flush-fitting doors and drawers, making for a clean, modern style with flawless lines.
Why Choose Bellmont?
Are you stretched on storage space? Bellmont Cabinets might be your perfect solution. With drawers that can contain up to 75-pounds, you can fit more items below the surface, saving vital counter space. There are even full-extension drawer options, allowing you to truly maximize your storage potential.
Want to learn more about bold, beautiful, and oh-so-practical Bellmont Cabinets? Visit out beautiful showroom, located at 1168 Fremont Boulevard in Seaside, CA today and explore our cabinet displays.